IN MEMORY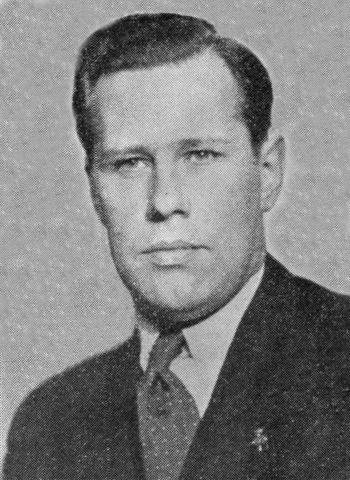 "TABLE TOP"
Captain Mogens K. A. Hammer
21.01.1911 - 11.01.1946

As a curiosity it ought to be mentioned that Mogens Hammer in September 1942 had to flee to Sweden because the Nazis wanted him arrested. The escape, which took place by crossing the cold waters of Oresund in a folding canoe, was carried out together with Borch Johansen. Safely in Sweden he was flown to England.

Although Hammer as results of many months of hard illegal agent activities was worn-out and tired he immediately accepted when Commander R. Hollingworth as early as in October 1942 asked him to take another assignment. He was told to go back to Denmark to take over M. Rottbøll's job as chief of S.O.E.

Captain Christian Michael Rottbøll had just been killed in a shootout with the Danish police when they tried to arrest him.

The deployment, was this time carried out by performing a high-risk water jump at the coastline next to Tisvildeleje on October 19. 1942. Dressed in a dry suit and parachute Mogens Hammer was the first person in the world to perform a water jump during combat.

Subsequently Mogens Hammer occupied the position as chief of S.O.E. until Flemming B. Muus relieved him in March 1943. Mogens Hammer once more had to flee to Sweden and after a short imprisonment he was again sent to England.

Back in England Mogens Hammer retreated from S.O.E. activity but only to voluntarily join the regular British armed forces. He served the British military until his tragically death on January 11. 1946. Mogens Hammer was along with two other officers and a sergeant the casualty of a fire on a ship in the harbour of Hamburg in Germany. It has been speculated if the fire was an act of sabotage.